Fischer Random Chess Email Club
<![if !vml]>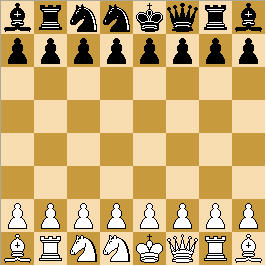 <![endif]>
Starting Position ID: 451
FRCEC Dropout Tournaments!
Last Updated 6/12/05
To join a Dropout tournament, send an email to:
General rules for dropout tournaments (courtesy of

SchemingMind

)
<![if !supportLists]>· <![endif]>Number of participants: Any number of players can participate in a dropout tournament. Four to six rounds are played, depending on the course of the event. Each player has two games per round with different opponents, one with the white and one with the black pieces. From round two onwards players with the same score will meet each other where possible; all pairings are drawn at random.
<![if !supportLists]>· <![endif]>Scoring: For each game, players will be assigned MALUS-Points (MP) as follows - win: 0MP, draw: 1MP, loss: 3MP. Points are added over all rounds.
<![if !supportLists]>· <![endif]>Elimination: After each round, players with scores equal or greater than the dropout threshold are eliminated from the tournament (the dropout threshold is normally six).
<![if !supportLists]>· <![endif]>Final round: In the final round, two players or more may be involved depending on course of the tournament. The player with the least MP after the final round is the winner; if necessary a decision match can be played. As far as possible players will meet each other only once (in later rounds a rematch may be necessary).
Recruiting players for the following Dropout Tournaments:
D0002 in Chess Variants
D0003 in E4EC
D0004 in BrainKing
FRCEC Dropout Tournaments in progress:
D0001 in SchemingMind
Start Date: January 10, 2005
Dropout Threshold: 6MP
Round 2
Rank #

Player Name

W-L-D

Malus Points

W/B

Rounds

1

2

3

4

5

6

Not Eliminated

1

Diego Sueiro

2-0-0

0

W

0

B

0

2

Dennis Michael

2-0-0

0

W

0

B

0

3

Geir Smith-Meyer

3-0-0

0

W

0

0

B

0

4

Grayling Hill

3-0-0

0

W

0

0

B

0

5

S. Rosoft

3-0-0

0

W

0

B

0

0

6

Dan Weber

4-0-0

0

W

0

0

B

0

0

7

Jose Carrillo-Muniz

2-0-1

1

W

0

1

B

0

8

Paul Grosemans

2-0-1

1

W

0

B

0

1

9

J.R. Gallagher

1-1-0

3

W

0

B

3

10

Harold Vandenburg

2-1-0

3

W

3

0

B

0

11

Guillermo Cual

1-1-0

3

W

0

B

3

12

Jack Cheiky

2-1-1

4

W

0

0

B

3

1

13

Antti Savolainen

2-1-1

4

W

0

1

B

3

0

Eliminated / Withdrawn*

1

Daniel Mendez

2-2-0

6

W

3

3

B

0

0

2

Anton Matejka

2-0-0

6

W

0

3

B

0

3

3

John K. Lewis

1-2-0

6

W

3

3

B

0

4

Raśl Eduardo Palacio

2-2-0

6

W

3

0

B

0

3

5

Roscoe Ellis

2-2-0

6

W

3

3

B

0

0

6

Alice Wood

0-2-0

6

W

3

B

3

7

Dan Valade

0-2-0

6

W

3

B

3

8

Michael Farris

0-2-0

6

W

3

B

3

9

Israel Chauca Fuentes

0-2-0

6

W

3

B

3

10

Michelle Buckley *

2-2-0

6

W

3

3

B

0

0

11

Luis Mansilla *

1-3-0

9

W

3

3

B

0

3

12

Paul Joseph Frigge *

1-3-0

9

W

0

3

B

3

3

13

Bryan Jones *

1-0-0

3

W

3

B

0

14

David Symoens *

1-1-0

3

W

0

B

3
----